Studio Photography, Llandudno Fireworks 2008, and Kath's birthday party
I've been neglecting the site again, but it's time for a quick catch-up and another batch of photo's. There are shots from a couple of photography sessions with the Bangor Photo Society, a few of the fireworks at Llandudno, and a few from Kath's 21st Birthday. Take a look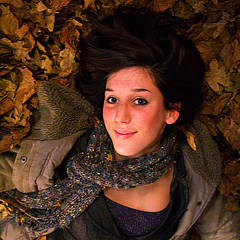 OK, so, since the last time I caught up with you I've taken up Salsa. A few friends from the photo society go, and I thought what the hell - I'd try it out. The first 10 minutes were exactly as uncomfortable as I had anticipated, and it was painfully obvious (and extremely annoying) that I had no natural talent at the art of body movement coordinated to the rhythmic properties of music. However, by the middle of the class I was laughing my ass off with Justine and Kath, and it turned out I rather enjoyed it. I've been going for the last five or six weeks and I'm getting tolerably OK. I have stopped looking like a robot, and can now coordinate my feet without looking at them or counting out loud. I can also do the right things with my arms now too. It is a lot harder than I'd thought, and being the guy means I'm the lead which means I have to remember feet, arms, repetition counts, and decide what steps to do.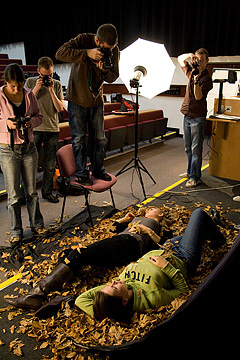 I also went to one of the Psychology Open Lectures at Bangor one Sunday with Kath and Ben, which was great. It was about how the brain filters our experiences in order to find things that are interesting. It also answered a long standing question of mine: what are the shivers that you get down your head/neck/spine/arms when listening to really good music? Turns out that's a bit of a cascade going on in the brain and a spike of opiates getting released. I think i took more notes than any of the students too. Even asked a question at the end as I was not convinced the lecturer's theory was right (according to him, the same bit of music should get boring after many repetitions - which not the case, I get tingles down my spine almost every time I hear Ghost Love Score for example. According to his theory I should get bored of it and never want to listen again).
I've given a tutorial on Photoshop at the university and also been to a couple of the studio set-ups for a play with the lighting rigs, and a trip with the society to Penryhn Castle. Very cool, in fact I think I've been to every photo society meeting so far since uni started up again. There was even a question in the pub quiz where people could get a point for knowing my real name! lol!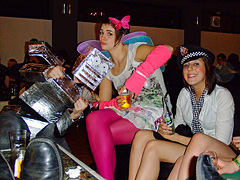 I caved in and got myself an iPhone last month. It's a hell of an upgrade from my old Nokia 3210, and I am loving it. It has a fair share of niggles, but it really does feel like something from Star Trek.
In the past few months Matt Waddy has been over to visit, as has Mike Goodwin - very cool to see both of you guys, we need to meet up more often!
There have been two fancy dress parties since I last blogged too - a Haloween one which was brilliant, but which I didn't dress up for as I had to come over right after work. Mike Tetly's costume was amazing and really quite scary. A full skull mask hiding underneath a Fedora and wearing a proper velvet suit with a walking cane. It unsettled everyone. After a bit of a house party at Charlotte's we all headed over to Varsity, drank a bit and then went to Time. That's the first time i've been in a club in years, and while the DJ was dire, it was realy good fun! Sadly I have no photo's of that night, but I do have some of Kath's 21st party last week, which was good fun. I went as the Time Traveller out of HG Well's Time Machine, the story being that I also went into the future and built MikeTron3000, bringing him back with me to party. MikeTron3000 was an awesome creation by Mike - a frankly brilliant robot suit. Though the whole "getting in the car" thing was rather awkward by the looks of things.
Anyway, that about brings things up to speed.
Entry Information
Posted:

Wed, 19th Nov 2008 at 20:11 UTC

Filed under:

Tags: