How a colour blind person sees the world
I've heard a lot of talk recently about accessibility issues on the internet, and how that doesn't mean catering for 'just blind people'. That's true, and I back what most people are saying wholeheartedly - but that's not what this blog is about. Amidst the talk and chatter someone mentioned colour blindness, and it was only then that I realised - I'm one of these people who would benefit from Accessibility aware development.
I am red/green colour blind, the same as 8% of all white men. My colour blindness was picked up at primary school, where a frighteningly large person called small groups of children into the school office and we were given brief eye examinations. We were handed out small cards with a printed circle on, full of little random dots. We were asked to say what number was written in the circle and while my friends reeled off answers with confidence I said 'mine doesn't have a number'. My friends looked at me like I was playing some sort of joke. They were asked to leave, I stayed - thinking I was in trouble. For me, there was no number, because I'm colour blind. It's something I never think about, except on the odd occasion when someone will remark about some colour and I'll argue the colour. (Being colour blind doesn't just mean I don't see some colours, it also means my names for some colours are not the ones 'full sighted' people will use. I literally don't see the same colour, so I name it differently).
We got to talking about it at work, and after a while trying to comprehend that I must be missing out on a whole spectrum of information and input I said to Tim - "I wish I could see the world like other people see it". I don't know what I'm missing, because I've got no grounds for comparison, and I never will know how other people see the world because colour blindness isn't something that can be cured. What I can do however is show you how I see the world.
The following pictures use a little Photoshop plug-in to simulate my type of colour blindness. I'm not completely red/green colour blind so I've fiddled with the results a bit to try and get it more accurate. The pictures below are a very close simulation to how I see the world, all day, every day, everywhere. When I look at these pictures there is almost no difference at all - both the left and the right image look almost identical. If you were to cut them in half and show me one, then the other I would not be able to tell you which version you had shown me. Remember that 8% of all white men see the world like this, to a greater or lesser degree, and that in a room of 250 people (of mixed race/gender) at least 12 will be colour blind.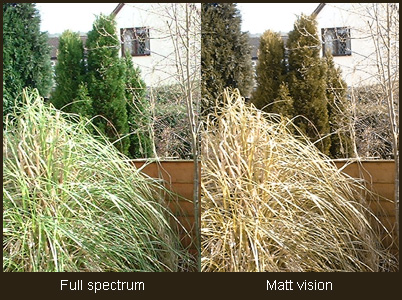 This is the best simulation - these are identical to me.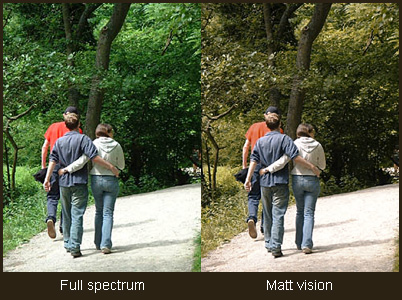 I picked this one because it has strong reds and greens. I can just about tell that these two are different - the red shirt Mike is wearing is very slightly duller and browner in the simulation than I see it in the 'Full spectrum' version, but that is the only difference I can see here, and it's only noticeable to me when I compare these side-by-side.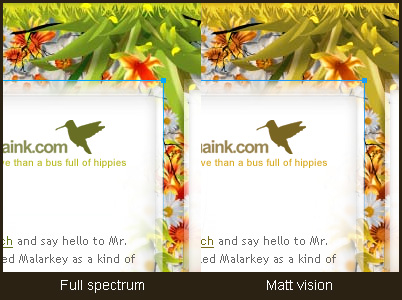 I'm not singling out John Oxton's site for any reason other than it's the first one I thought of when I wanted to show people how I see a colourful website.
Hopefully this gives you a small peek into how I see things. It's why I can't see berries on holly bushes, why the orange/green safety reflectors on the backs of large lorries aren't very noticeable to me, why I can never pilot a plane or be a police officer, and why Dad's Technics DVD player annoys the hell out of me. The shade of green used for 'on' and red used for 'off' are close to indistinguishable for me. I hate that DVD player.
Entry Information
Posted:

Thu, 30th Jun 2005 at 19:06 UTC

Filed under:

Tags: