Out and about with the camera
It's been a while since I made time for myself to go and use my camera, but this weekend I was determined to do so. Yesterday was far too poor weather, but today was better, overcast, cold, windy, but dry. So, I went out on a gentle stroll wrapped up in two fleeces, a windproof overcoat, a scarf, a hat, and when the wind blew particularly strong, the hood of my windproof up too. Take that nature! Insulation FTW!

I didn't get too many shots, but the point was more to get back into practice than to land a bevy of award winning photographs. I was surprised to see the swans still on the north/east shore, but there they were. They were quieter than normal, probably wishing they had evolved an opposable digit with which to invent overcoats and the internet. Alas it was us monkeys who landed that evolutionary ace, and so the swans no doubt spend winter plotting revenge, whilst sitting in a pond of near freezing water. Quietly.
After returning from my walk and phoning the parents, Heather and her mum popped in for a cuppa as they were in Llandudno already, which was super cool. Unfortunately, while I was talking to dad on the phone I was also trying to remember where I put my mobile (and being flustered at not remembering), and attempting to answer the door all at the same time. This resulted in me promptly bidding adue to my dad before putting the house phone in a draw . Yes, I have no idea why a drawer either, but it kept me hell-a busy for a good ten minutes after Heath and her mum left, trying to figure out where I'd put the damn phone. Sometimes I worry about my brain, and the illogical choices it can make when under multi-tasking pressure.
Oh, also, I drew my first doodle in years the other day, while listening to a lecture on eXtreme Programming techniques. I, uh… don't know what it is.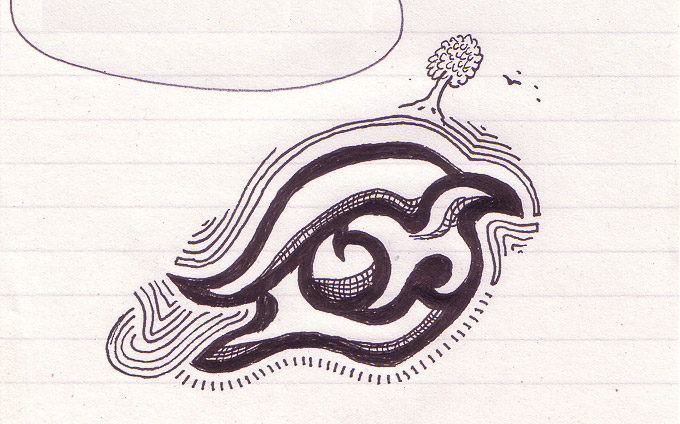 Entry Information
Posted:

Sun, 28th Jan 2007 at 19:01 UTC

Filed under:

Tags: