The Office
I've been passed a meme from Phil Roche, so here we go:
Work Setup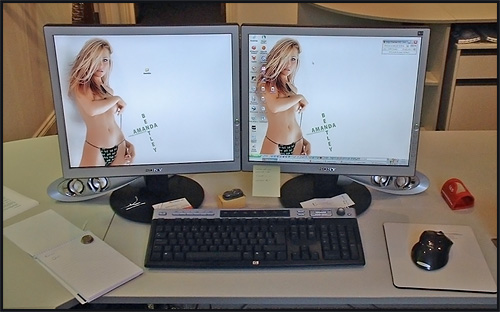 This is my computer at work.
Dual Sony 19″ TFT displays
Athlon64 3200+
1Gb RAM (single stick, CAS2)
80GbHHD and a 160Gb HDD
Radeon 9800Pro
Home Setup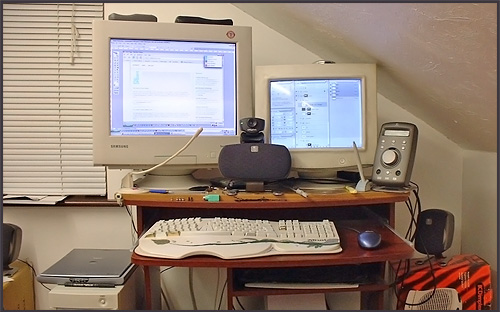 This is my computer at home (please excuse the mess).
Dual display (19″ Samsung 900NF and a 15″ PackardBel GoldfishBowl)
Athlon 2800+
1.5Gb RAM
120GbHHD and a 160Gb HDD
Radeon 9600Pro
Creative webcam
Canon scanner
Epson 890 Photo printer
Essential hardware
My Logitech Z-680 surround system
My 512Mb USB key
My router. Without it, it's dial up, and that's just wrong
Most Wanted
Dual TFTs at home. Widescreen ones.
A new mouse/keyboard
Somewhere I can turn my speakers up and crank the sub-woofer from it's very lowest setting.
Moving along
This has already got to most of the people I'd want to send it to, so the buck stops here.
Entry Information
Posted:

Thu, 7th Jul 2005 at 23:07 UTC

Filed under:

Tags: